BIOMETRIC SOLUTION
AGAINST COVID-19
As humanity faces a new biologic threat in the form of highly contagious COVID-19, we at NtechLab are hard at work on adjusting and implementing our outbreak and quarantine control system to fight the pandemic.
The algorithm underlying NtechLab's solutions has shown a great deal of effectiveness in identifying those who violate quarantine while tracking the social interactions between the potentially contagious and promptly notifying respective authorities.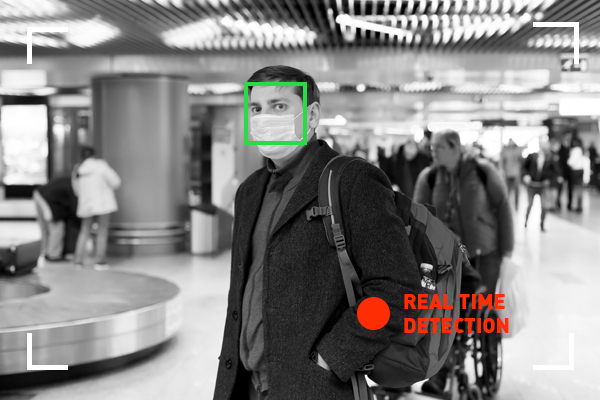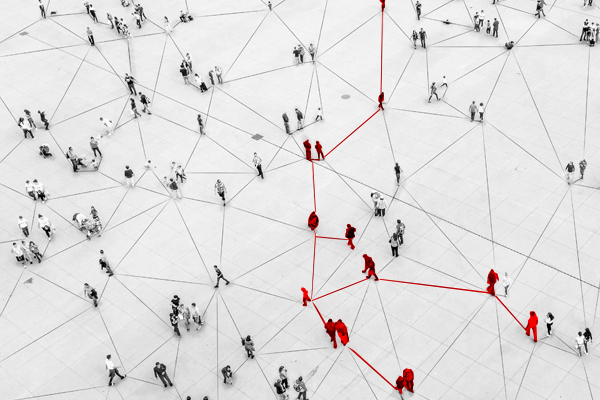 The main challenge faced by every country exposed to coronavirus is the sudden surge of infected people who make the healthcare system running at its limit, thereby increasing the risk of it shutting down completely. Being able to set up an intelligent surveillance system that decreases the manpower requirements is crucial.
FindFace offers a hand in establishing an unprecedented level of control over the quarantine situation by employing facial recognition along with a number of associated technologies. CCTV cameras connected to the FindFace system detect and identify people in the streets in real time allowing for immediate response, while the AI analyzes social connections.
KEY FEATURES
Narrow down the number of potentially infected people with the access to complex recognition and historical search
With the power of silhouette recognition algorithm, it is possible to track an individual across multiple cameras even when no facial image is available
The system recognizes home-quarantined people and sends immediate notifications upon their appearance in the camera view even if the face is covered by a medical mask
FindFace excels at distinguishing age, which is helpful in controlling elderly people (60+) who are strongly advised to stay home at all times during the COVID-19 pandemic, as they are highly vulnerable to the virus
-
ACTIVE PROTECTION AGAINST CORONAVIRUS OUTBREAK


In January
2020
the Government of Moscow connected its city surveillance to the system powered by the NtechLab's algorithm after two years of testing
Over 100,000 cameras
have been linked to an AI system recognizing people in the watchlists created by the police
200
violators
have been identified
and issued with warnings about decisive measures in case of a recurring quarantine neglection over a couple of weeks
Why FINDFACE
The solution determines if a person is wearing a face mask and whether it is worn properly by detecting 3 states: mask off, mask on and improperly worn.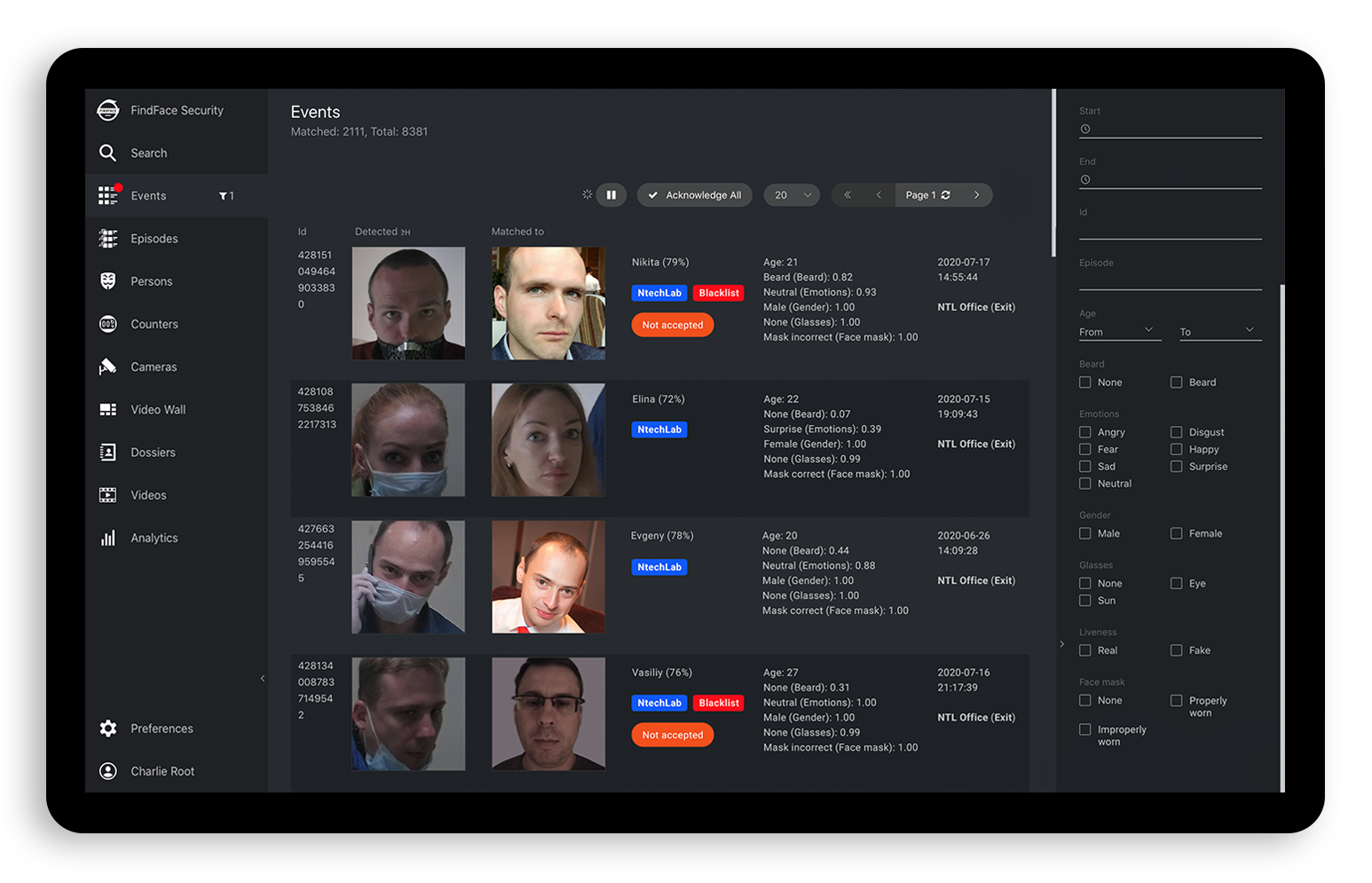 Scalability
The system demonstrates exceptional flexibility when operating in various quarantine scenarios. Thanks to limitless capabilities in terms of database volume and the number of cameras, you can implement our biometric solution on any scale, from a single building to the entire city
Complex recognition & analysis
FindFace is the only solution capable of analyzing different sets of data, such as faces, silhouettes and objects. By bundling them together, it is possible to outline social circles and get an insight into the virus spread patterns for timely quarantine measures
Speed & Accuracy
One of the fastest and most accurate face recognition algorithms in the world. With identification accuracy over 95%, the search among 1 billion faces takes a split second, which enables real-time communication and immediate action
Disruption resistance
The system's high-precision algorithm maintains effectiveness in a range of uncontrolled conditions allowing for up to 40% of a face being covered. This will come in handy as more and more citizens choose to wear medical masks or respirators when leaving home
Liveness detection
It allows the system to distinguish a live face in front of a camera from a photo or video image. The ideal protection for a biometric access control system ensuring the highest level of security without extra supervision
< 1 second
to search the database of 1.5 billion faces and identify a quarantine violator
number of cameras can be connected to a unified facial recognition system encompassing entire cities
40% of a face
can be covered by a medical mask with no effect on the recognition accuracy
Areas of use
— Notification about people with a diagnosis or with symptoms appearing in public places
— Monitoring compliance with self-isolation
— Control of virus-free zones
— Connections and contacts between people
— Matching «quarantine» groups and social graphs from social networks
— Distance estimation between people in the crowd and queues
— Remote face authentication
— Medical mask detection
— Integration with infrared thermometers

-
GLOBAL PRESENCE
As one of the leading facial recognition software companies, we have established a worldwide network of partners, who implement our technology at every scale. Our facial biometrics software is highly configurable and modular, which allows for smooth integration and high cost efficiency.
>OVER 100 CLIENTS
AND PARTNERS
IN 20 COUNTRIES APPRECIATE
THE BENEFITS OF FINDFACE
THE WORLD'S BEST ALGORITHM IS AT THE CORE OF FINDFACE
When it comes to facial recognition technology and security, being average doesn't cut it. NtechLab is constantly honing the speed and accuracy of its face recognition software and delivers high-end products that have already surpassed the creations of many major developers. FindFace has been acknowledged as the top-performing facial recognition software by the National Institute of Standards and Technology (NIST) and the United States Intelligence Advanced Research Projects Activity (IARPA). NtechLab has also proven its silhouette tracking expertise taking the 3rd place in the Wider Pedestrian Challenge, sponsored by Amazon and SenseTime.
STOP THE PANDEMIC
WITH FINDFACE